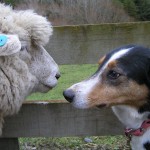 IT'S NO secret that current wool prices are awful, but the outlook for the fibre has been terrible for many years.
For some types of wool, more has been put in storage than has sold in the last nine months, mainly due to lack of demand from China.
According to reports, current wool exports to China are 40% lower than last year. This highlights the folly of the industry relying on China alone.
As Wools of NZ chair Mark Shadbolt says, "The world is our market so as soon as you allow 60% of all of our exports to go into one country then you are exposed." Continue reading →